Territory Guided Fishing is a result of a personal dream being brought to life. Our aim is to be able to give back and share just some of the knowledge and stories that we have been fortunate enough to experience along with a service that allows anyone from anywhere to be able to enjoy and feel the excitement that the top end can offer.
Owned and operated by Peter and Terri Barnes, yes that's us,
we aim to provide an informative Northern Territory fishing experience for enthusiasts of all levels. We provide our clients with a professionally operated, high quality and personal adventure in the spectacular Top End wilderness.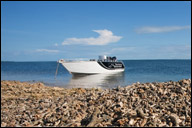 The Territory is an unrivalled fishing destination with unbelievable networks of waterways offering world class fishing opportunities. The mighty Barramundi is the most famous and keenly sought after fish in our waterways. Being aggressive lure takers and having a reputation for their aerial acrobatics, anglers never tire of catching this remarkable fish. Barramundi are abundant throughout the Northern Territory's waterways and are caught around fallen trees, creek mouths, run offs, gutters, sand flats and rock bars. Barramundi can be caught year round, traditionally being most active during the warmer periods.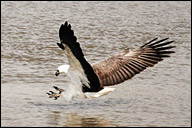 In addition to the vast marine life and natural beauty, the Territory's waterways are home to a magnificent array of animal and bird life including buffalo, crocodile, wallabies, kingfishers, jabirus, brolgas, white breasted sea eagles, kites and many other varieties.
We cater for all level of fishing enthusiasts ranging from the absolute beginner through to the seasoned sport fisherman. Having fished, visited and now residing in the Territory for the last 15 years, I have a vaste knowledge and understanding, supported with my high level of experience of the Territory's waterways. I look forward to providing you with personal tuition and have you confidently catching fish in no time at all.