All one day destination charters are approx between 100klms and 200klms from Darwin CBD. The location will depend on the time of year, weather conditions and fishing conditions. We are happy to recommend where fishing may be best at a particular time of year but your choice of destination is always accommodated providing conditions permit.
Targeted Species
Barramundi
Saratoga
Tarpon
Black Jewfish
Threadfin Salmon
Golden Snapper
Trevally
Queenfish
Coral Trout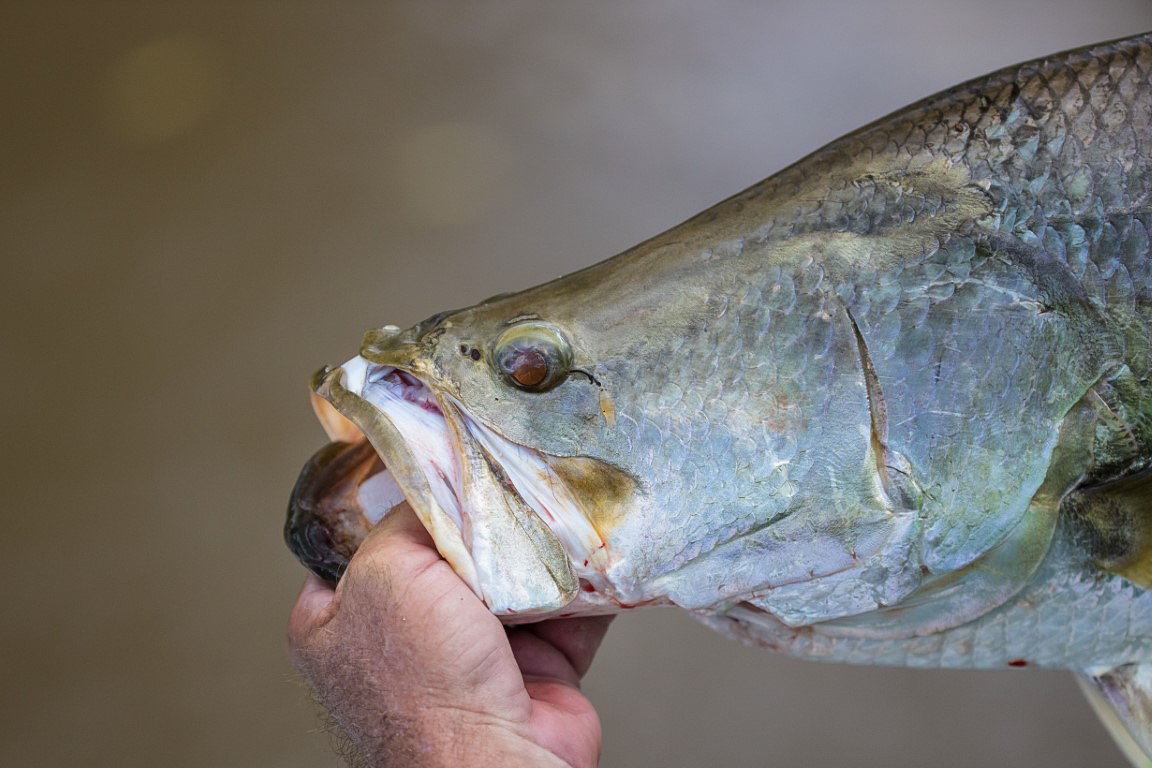 One Day Barra Charters Itinerary & Inclusions
A one day fishing charter involves
Pick up from your Darwin accommodation (approx 5am) transfer via our air conditioned, licensed tour vehicle to your Northern Territory fishing destination.
A breakfast stop is available along the way.
Morning tea, lunch, seasonal fruit and light refreshments are supplied on board
6.4m Barra boat with modern fishing platform
Experienced and qualified fishing guide
Quality fishing tackle is supplied on a replace if lost or damaged basis
30 + sunscreen
After a great day on the water you are transferred back to your Darwin accommodation by approx 5pm
What to Bring
Wide brimmed hat
Sunglasses
Insect repellent
Cool protective clothing
Camera / Video Camera ( don't forget batteries)
Availability – May to November predominantly (all year round)
Price – From $375 per person
Suitable For – All levels of experience, minimum age of 7 yrs (unless pre arranged)
Exclusions
Alcohol (BYO) please remember that responsible consumption of alcohol is a requirement when on board the Territory Guided Fishing vessel.
Insect repellent
"I only have two anglers?"
You have two options:
You can pay for the full boat (4 anglers) and have the charter exclusively for yourselves, or you can choose for us to fill the seats with other anglers.
"I only want to fish for 2 1/2 days?"
We can customise any tour to suit your individual needs, adjusting the price accordingly
"I have a food allergy"
You can choose to bring your own food aboard or with prior notice we can make allowances for this with our cateringers.
"I have my own fishing gear I would like to bring"
That's easy, just bring it along
"I'm by myself, can I come for a fish?"
Sure we will do our best to fit you in and find you some fishing budies
Additional Information
If you or a member of your chartered party has dietary requirements then please advise Territory Guided Fishing upon booking or no later than one week prior to departure as we are more than happy to cater for you needs.
For any other requirements please contact us via telephone or email and we will endeavour to provide you with your requests.