Northern Territory Fishing Locations
Barramundi is a must catch for all visitors to the Territory. Putting up an unforgettable fight with its high jumps and torpedo runs all in an effort to throw that lure. But there is a lot more to fishing with us than Barramundi. Other species in our river systems include threadfin salmon, saratoga, tarpon, black jewfish, queenfish, Spanish mackerel, golden snapper, trevally, queenfish and many others.
All these species can be found in our easy accessible and nearby waterways. Some of these locations include: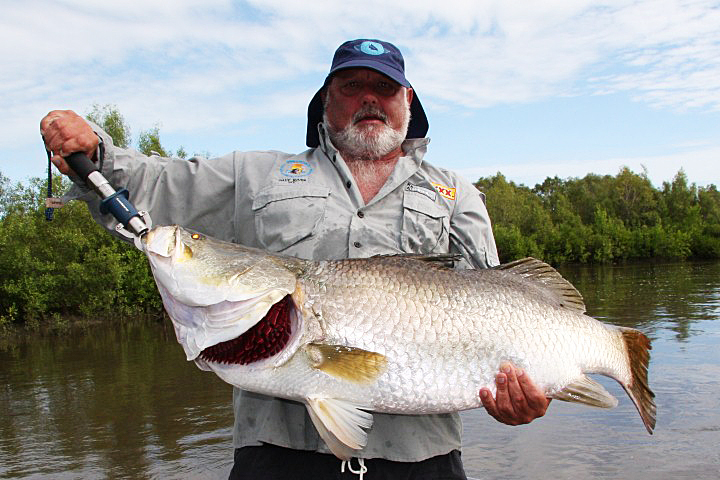 Shady Camp
The Mary River System is renowned as a fertile marine nursery offering superb top end fishing. In 1987 a man made barrage was constructed at Shady Camp to prevent saltwater from penetrating into the freshwater further up river. Who would have thought that this combination of salt and fresh would make for some of the best Top End Barramundi fishing that the Northern Territory has to offer?
Territory Guided Fishing offer extended fishing charters to Shady Camp and this Northern Territory wonderland so whether you choose to stay for two days or two weeks, we will cater for your individual needs.
When you book an extended fishing charter you will get to experience more than just fishing which makes it a highly desired destination for many visiting the Top End. The viewing platform across the Mary River floodplain allows travellers to observe one of the most scenic areas on offer with fresh water billabongs, paperbark and monsoon forests and who could forget the dominant prehistoric owners of the water – the saltwater crocodile.
Shady Camp aims to please so whether you're on the hunt for a Northern Territory Barramundi or you just want to soak up the beautiful Top End surroundings then this is the Darwin fishing charter for you.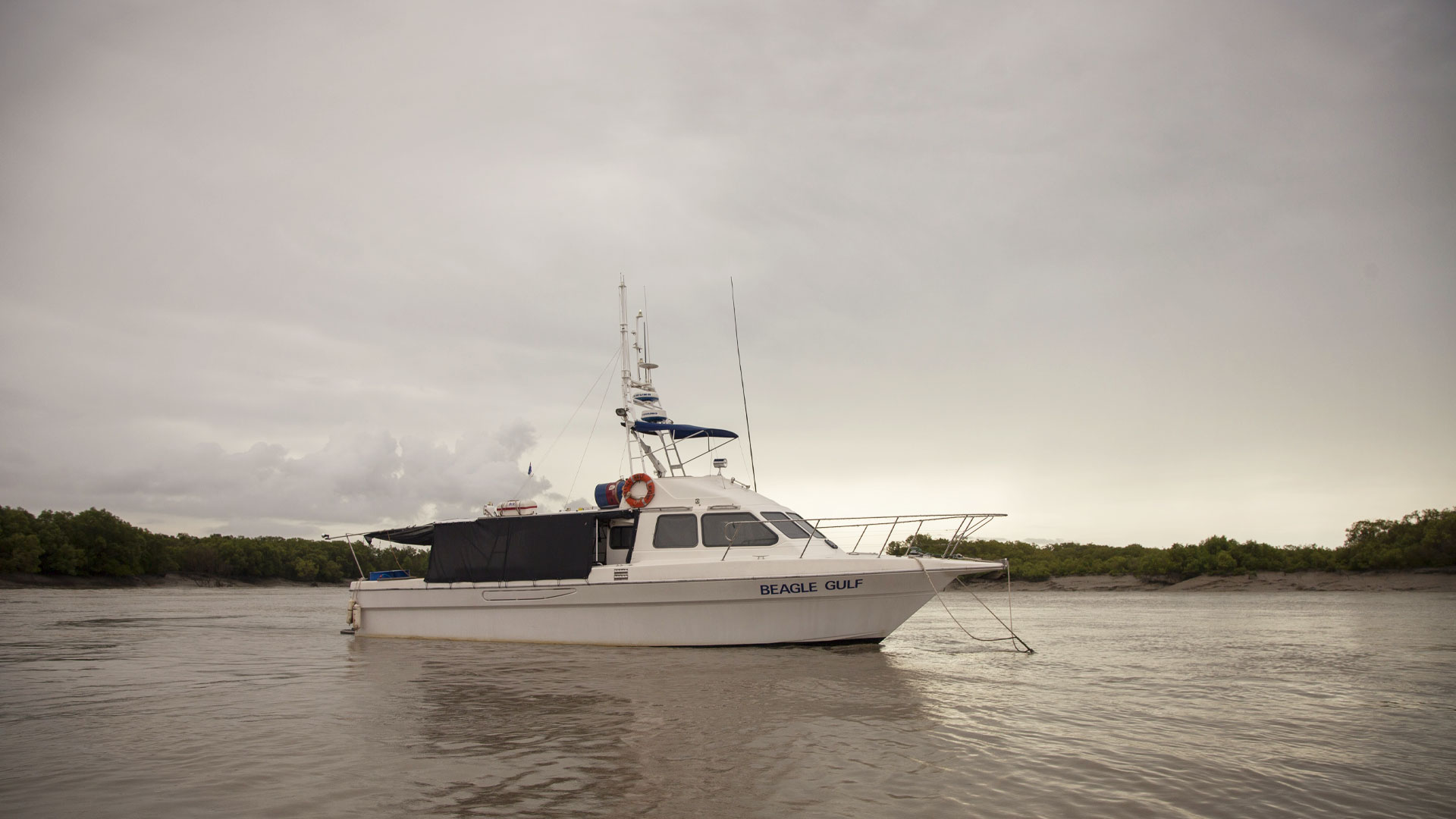 Corroboree Billabong
Located approximately 1.5 hours drive from Darwin heading towards Kakadu National Park; you will encounter a Wetland Experience not to be missed. Set against the background of one of our most picturesque billabongs known as Corroboree you will have the chance to take on some of the greatest fishing that's available in the Northern Territory.
Corroboree is alive with an amazing variety of wildlife so even if chasing that Top End Barra is not on your to do list, there is still plenty on offer whether it be viewing the intriguing crocodiles that line the banks and stalk the water or the placidity of the birdlife on display. The billabong is also home to Saratoga and Tarpon and you may even get to witness water buffalo and dingoes in their natural environment.
Whether you choose a one day fishing charter or an extended fishing tour is more your style, Corroboree promises to deliver and here at Territory Guided Fishing we are more than happy to take care of all arrangements to ensure that your top end fishing experience is memorable.
Vernon Islands
Within relatively easy reach of Darwin, accessed via Leaders Creek, you will discover the spectacular Vernon Islands. These islands offer some fantastic top end fishing action with the illusive giant trevally being an exceptional catch. Reef fishing is also available around the island rocks and the deeper channels are renowned for their big jewfish.
The Vernon Islands offer a wealth of countless other species including Barracuda, barramundi, billfish, black jewfish, blue salmon, cobia, cod, groper, coral trout, golden snapper, mangrove jack, moonfish, queenfish, red emperor, tarpon, threadfin salmon, tuna and mud crab, just to name a few.
Let Territory guided Fishing provide you with an unsurpassed Northern Territory Fishing experience at the Vernon's – Top End fishing at its best.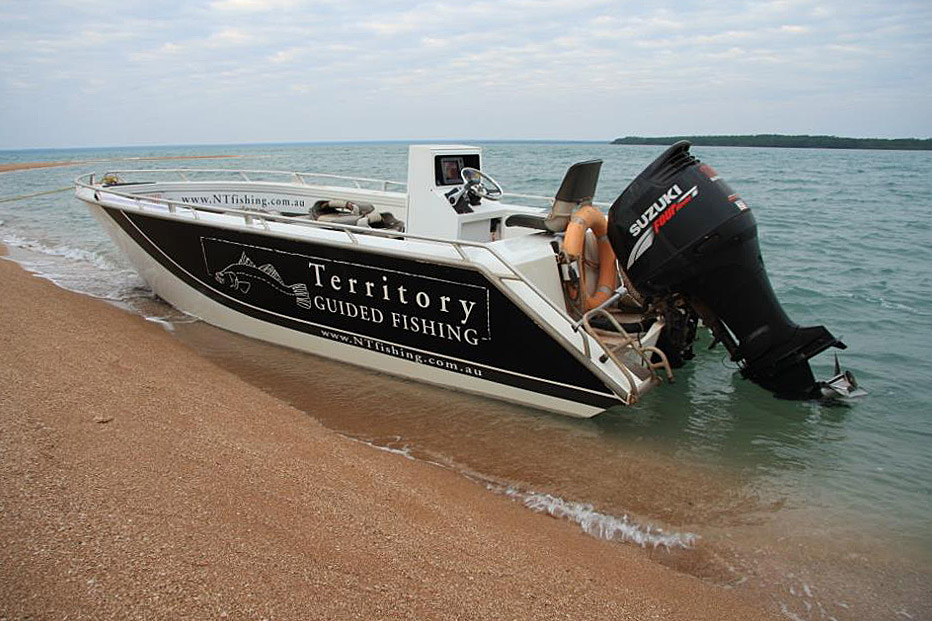 Finnis River
The Finnis River offers the best of both worlds with saltwater estuary fishing including varieties such as Barramundi, Threadfin Salmon and Jewfish whilst upstream a little – hit the freshwater and get yourself into the mood for some Saratoga, Tarpon and of course more Barra. The Finnis river has it all.
With Dundee also an option on this one day charter you will be certainly satisfied with a good days work or should we call that "play".
Darwin Harbour
If you wish to book your Northern Territory one day fishing charter, fishing Darwin Harbour and its surrounds, you will be more than pleased with your decision to do so.
Sprinkled with sunken ships from World War II and Cyclone Tracy, Darwin Harbour is enclosed by picturesque mangroves and unspoiled beaches that along with spectacular natural scenery and an abundance of fish make this an absolute must to do whilst visiting Darwin.
Let Territory Guided Fishing assist you in chasing down that illusive Top End Barra or try for one of the many other tropical species such as a mackerel, tuna, cobia, golden snapper and coral trout just name a few.
Bynoe Harbour
A Darwin one day fishing charter with Territory Guided Fishing will take you approximately 1.5 hours out of the CBD until you reach Bynoe Harbour. Located to the south of Darwin, Bynoe has a number of islands and drying reefs inside and out, which makes it significantly more appealing for boaters than Darwin Harbour. These two main estuaries and natural harbours are divided by Cox Peninsula however, due to the two harbours being so close in proximity and are similar in size and habitat, Bynoe is often referred to as a "sister harbour" to Darwin Harbour.
The Harbour is relatively shallow and is lined with mangrove forest, providing a rich habitat for an assortment of marine life including Barramundi, Mangrove Jack, Jewfish, Threadfin salmon, Trevally and don't forget the always delicious Mud Crab. This coupled with the magnificent scenery and wildlife that the Top End puts on display will ensure a memorable NT Fishing experience.
Dundee Fishing
When you book a one day fishing charter to Dundee, you will be taken on an amazing fishing journey that begins in a small relaxed coastal town 160 kilometres south-west of Darwin. After launching you will discover Northern Territory fishing at its best. Large areas of shallow fringe and offshore reefs offer exceptional Queenfish, Trevally, Tuna, Mackerel and many other Top End species. Barra, Salmon and Jewfish can be caught closer to the shore, and more often than not straight off the rocks.
Dundee provides a little bit for everyone, however, if that's not enough and you are after more from your Top End adventure then relax and sit back for a scenic boat trip to the Finnis River where you will get to experience Northern Territory estuary fishing followed by traditional river fishing where that NT Barra might just be waiting for you.
Daly River
The Daly River region is located between Darwin and Katherine it begins where the Katherine and Flora Rivers meet and flow west to the Timor Sea.
The Daly River is home to some of the Top End's most spectacular scenery with abundant wildlife and of course amazing fishing. It's renowned for its large barramundi and is one of the more well-liked waterways for recreational fishing. The best barramundi fishing is normally just after the wet season when the flooded river is retreating fast and clear water is pouring in off the floodplains. During a one day charter or be it extended, Territory Guided Fishing will make certain you get to experience all that the Daly River has to offer, ensuring an unforgettable top end barra fishing adventure.
Leaders Creek
Situated less than an hour's drive from Darwin, making it ideal for a Top End one day fishing charter, Leaders creek is an extensive estuary system where large barramundi can be sought during the 'build up.' Not only does it offer barramundi fishing at its best, it is home to other top end favourites such as jewfish, mangrove jack and threadfin salmon. It is also the nearby access point to the vastly popular Vernon islands, which are located North East off the coast from the mouth of Leaders creek. This is set to be one of your most memorable Darwin fishing charters.